The water filtered by Morefilter can make the best ice. Feeding the ice maker with contaminated or hard water will produce turbid, dirty ice, which will melt in the beverage and contaminate the taste. A water filter for your ice maker enhances the quality and flavor of your home or restaurant or your ice. Today I will explain to you why your ice maker needs a water filter.
Why use filters for ice machines?
The ice filter can remove water, so the ice maker can make clean ice. It is conceivable that if the water quality is good, the taste of ice will be better, because the ice formula requires water. If the water tastes bad, smells bad or has particles in it, the appearance, taste and smell of the ice will be like water. Therefore, it is important to filter the water that melts the ice.
Why do you need scale control for ice filtration?
Hard water will scale, which is a problem with ice making. When water freezes, hard minerals will come out of the solution and form scale on the ice. Not to mention, the internal workings of the ice maker are affected by the formation of scale. Scale can damage your equipment, which is why it is important to control the scale of the ice machine, whether you use water softeners, phosphates or scale control boxes.
Why use ozone to disinfect ice cubes?

Ozone is a powerful method of water disinfection. These disinfection systems use ozone (O3) to oxidize bacteria, pathogens and other microbial water contaminants (including sulfur, pesticides and herbicides, and heavy metals such as iron and manganese). Bacteria can cause the ice to change color and contaminate the taste and smell of the ice. In addition, the presence of bacteria in ice exposes consumers to potentially harmful aquatic organisms. Ozone is known for its ability to quickly disinfect water and eliminate microorganisms without sacrificing flow rate or preventing ice production. In addition, unlike traditional disinfection methods (such as chlorination), ozone can disinfect water without adding any chemical additives.

Just as it is necessary to protect the ice maker from fouling, which will damage the internal mechanism of the ice maker, it is also important to protect the cleanliness of the ice maker. It is well known that ice machines are difficult to clean, and poor water quality can cause pink mucus and algae to cover the inside of the machine. The ozone disinfection system before the ice machine ensures that all water entering the ice machine is of original quality. Eliminating all the bacterial content in the water can maintain the first-class cleanliness in the ice maker, thereby reducing the annoying monthly maintenance and cleaning work. How does the ice maker water filter work?
The ice filter system filters the water from the ice machine to remove chlorine, particulates and other contaminants that make the ice turbid. Hard water must be treated because minerals will leave dust on the ice.

Today I will focus on introducing a morefilter ice machine water filter.
GlacialPure 5 PACK ICE2 F2WC9I1 Ice Maker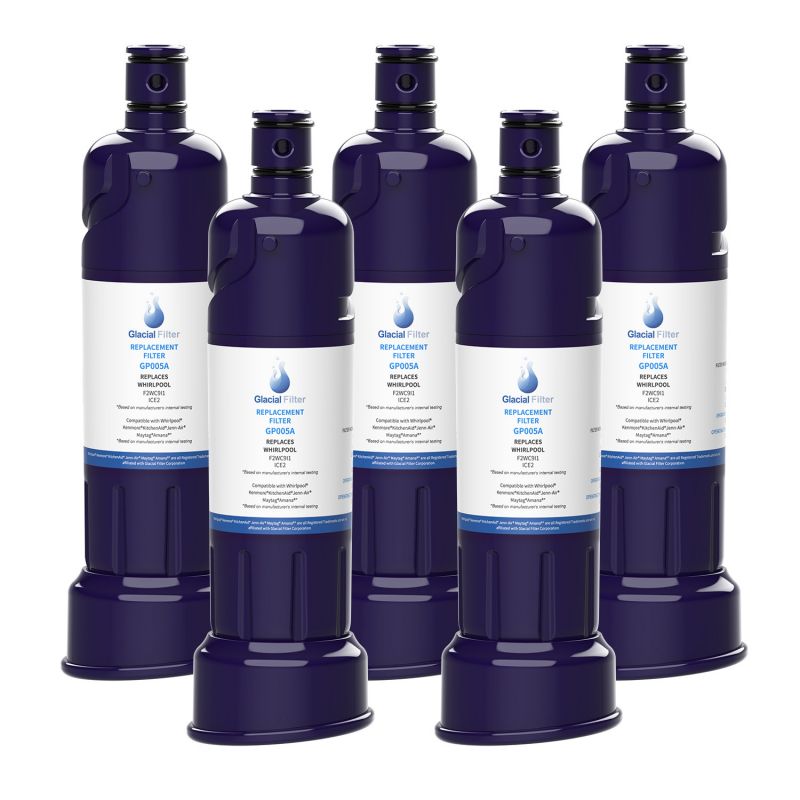 This is a 5pack ice maker water filter, The GP005A for Whirlpool F2WC9I1 (ICE2) filter is used in Icemakers by Whirlpool, KitchenAid, Maytag, GE & Jenn-Air. The F2WC9I1 filter gives better taste of water for drinking and making beverages as well as healthy, clean and clear Ice for your family.
This NSF certified filter reduces chlorine taste and odor and scale build up. Replace every 2,000 gallons (7571 liters) or 9 months to ensure clean safe drinking water.
Compatible Part Numbers:
10565350A, 3019657, 4396808
AP5801390
ENF2WC9I1
F2WC9I1
ICE2
KTAF2WC9I1
Compatible Ice Maker Model Numbers:
10689553100, 10689593100, 10689599100
JIM158XYCX0, JIM158XYCX1, JIM158XYRS0, JIM158XYRS1
MIM1554ZRS0, MIM1555ZRS0
GI15NDXZB0, GI15NDXZB1, GI15NDXZQ0, GI15NDXZQ1, GI15NDXZS0, GI15NDXZS1, GI15PDXZS0
Lower Cost, Better Performance
Normally, just two GP005A are enough to purify a family's water consumption in a whole year. Glacial Pure is better-priced than most other brands without sacrificing quality-very effective at removing 24 contaminants, such as lead, chlorine, and industrial chemicals.